JUST IN: Rona and Eric Tai Are Now Officially Parents!

Rona had just given birth prematurely to her and Eric's first son!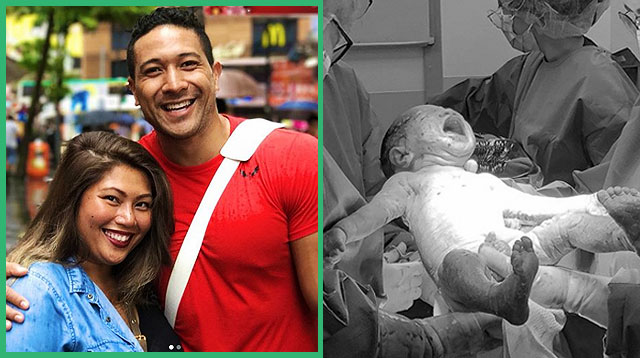 The Amazing Race couple had been sharing their journey to parenthood via in vitro fertilization (IVF) on social media, and today, March 4, 2019, at 34 weeks and 6 days into her pregnancy, Rona Tai gave birth to her and husband Eric Tai's first child, a son, at The Medical City in Pasig.

"Legend Eric Tai has arrived, and he is a premature massive unit!" the new dad and former It's Showtime host wrote as a caption for his son's birth announcement. Baby Legend measured 52 centimeters long and weighed a whopping 7 pounds, a huge baby for a preemie. 

Even so, the newborn still needs to be checked into the neonatal intensive care unit (NICU) as does Rona, who had been in the hospital for almost a week now for chronic hypertension. "Let's finish strong!!!!"Eric added. 

ADVERTISEMENT - CONTINUE READING BELOW

CONTINUE READING BELOW

Recommended Videos

What other parents are reading

"ITOOOO NAAAAAA!!!!! TODAY IS THE DAY!!!" the TV and events host excitedly shared yesterday. The first-time mother also shared how she's surrendering everything to God. "I am at peace. God has comforted me by ways of everyone's love, prayers, and fasting. Please continue to keep us in your prayers for a safe delivery," Rona wrote. 

ADVERTISEMENT - CONTINUE READING BELOW

The Tai couple had to resort to IVF since both of Rona's fallopian tubes and her left ovary had already been surgically removed. "My body has gone thru so much from knee surgeries, ectopic pregnancy, aches, and pains, yet it still continues to fight and now support a growing baby inside," she wrote in appreciation of her strong body. The couple confirmed the pregnancy in September last year on Eric's birthday, making it a double celebration. 

ADVERTISEMENT - CONTINUE READING BELOW

Rona was admitted in the hospital due to preeclampsia, but they had hoped that she would reach at least her 37th week of pregnancy before giving birth. Baby Legend, however, apparently had plans to meet his parents earlier. 

"On behalf of Legend and our ever-strong finally-mother @rownita and yes, we can all finally call you MOMMY after five times and one shot of #IVF, pasok na aagad!" Eric proudly shared. "We did it, love, I can't believe it, you did it, you fought strong and hard and never gave up... we did it, peh" Eric wrote in honor of his wife who had to go through a lot throughout their #RoadToBabyTai. 

ADVERTISEMENT - CONTINUE READING BELOW

"Thank you. Thank you. Thank you," Eric wrote for families, friends and the doctors, nurses, and staff at The Medical City who prayed and helped them bring their first baby into this world. 

Congratulations, Rona and Eric!

Trending in Summit Network