Symptoms of Hip Dysplasia Can Be Hard to Detect. Here's What You Should Know

Hip dysplasia can be present at birth or develop later in life.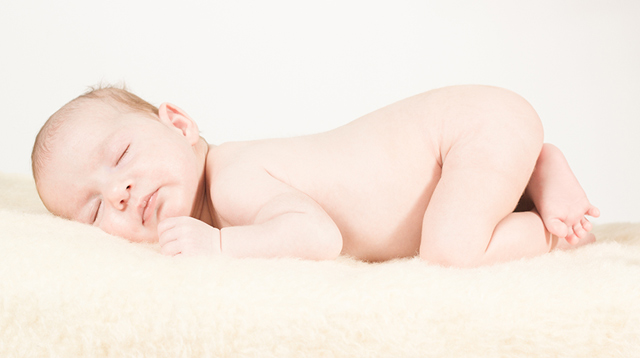 Newborn babies are vulnerable to a variety of illnesses and health conditions. One of these is hip dysplasia, a condition that can either be congenital (present at birth) or developed later in the child's life. Here is everything you need to know about it.

What is hip dysplasia?

According to the American Academy of Pediatrics (AAP), hip dysplasia in babies, also known as developmental dislocation of the hip (DDH), is "a condition in which a child's upper thighbone is dislocated from the hip socket." This condition is typically present at birth, but it can also develop in the child's first year of life or even later.

Hip dysplasia is rare. The International Hip Dysplasia Institute (IHDI) says that 1 in 10 infants are born with hip instability, 1 in 100 infants receive treatment for hip dysplasia, and 1 in 500 infants are born with hips that are completely dislocated.

Hip dysplasia in babies: causes and symptoms

The IHDI says that the exact causes of hip dysplasia in babies are still unknown. In fact, the organization calls hip dysplasia a "silent" condition because its symptoms can be difficult to detect, it does not cause pain, and it does not prevent babies from learning how to walk at a normal age.

However, a child's risk of developing hip dysplasia increases based on several factors. If someone in the family has this condition, it is possible the baby will also have it. Sex and birth order can also play a role: hip dysplasia occurs more frequently in females and firstborn babies.

ADVERTISEMENT - CONTINUE READING BELOW

A baby's position in the womb is another risk factor. According to the IHDI, womb position can cause more pressure on a baby's hip joints, stretching her ligaments. Babies in the breech position may have an increased risk of having hip dysplasia. Finally, the American Academy of Orthopedic Surgeons (AAOS) says that oligohydramnios, which refers to low levels of amniotic fluid, can also contribute to the possibility of a baby developing hip dysplasia.

As for physical symptoms, make sure you do not miss your well-baby checkup so your doctor can check if there is unevenness in your baby's thigh and buttock creases. It is also a red flag if you notice that you cannot fully spread your baby's legs while you are changing her diaper. Finally, one leg being shorter than the other is another possible symptom, says the AAP.

Hip dysplasia treatment

Healthcare providers first check for hip dysplasia during newborn examinations. The AAP writes, "During the exam, your child's pediatrician will carefully flex and rotate your child's legs to see if the thighbones are properly positioned in the hip sockets. This does not require a great deal of force and will not hurt your baby."

Again, note that hip dysplasia can develop in your baby's first year of life, so your child's doctor may not find any signs of the condition during the newborn examination.

After hip dysplasia is detected, your baby's doctor might recommend X-ray and therapy. Treatments can vary depending on factors such as your baby's gestational age, overall health, and medical history, how severe the condition is, her tolerance for specific medication or procedures, and the parents' preferences.

ADVERTISEMENT - CONTINUE READING BELOW

Recommended Videos

According to the AAOS, newborns with hip dysplasia are trypically placed in a soft positioning device, called a Pavlik harness, for about one to two months to keep their thigh bones in the sockets. This brace is designed to hold the baby's hips in proper position while still allowing the legs to move freely.

This treatment method is also used for babies ages 1 to 6 months. The length of time a baby may be required to stay in the harness can vary from 6 weeks to longer. However, if the baby's hips do not stay in position, the doctor might also recommend an abduction brace made of firmer material. Other cases may require a doctor to use the closed reduction procedure, where they will apply a body cast on the baby to hold her bones in place. This treatment is also used for toddlers between 6 months and 2 years old.

In some cases, surgical treatment may be required. For children 6 months to 2 years old, if the closed reduction procedure does not work, open surgery might be required. This may also be applicable for children over 2 years old.

Again, consult your doctor. Let a professional do the harness and therapy. Do not attempt to do it on your own without medical advice  

Hip dysplasia prevention

What can parents and caregivers do to reduce the risk of developing hip dysplasia in babies? Practice swaddling techniques that promote healthy hip development. Hip-healthy swaddling involves positioning your baby's legs in such a way that her legs are bending up and out at the hips. This position will allow her hip joints to develop naturally. The AAP also recommends not swaddling the baby too tight, since this can lead to hip dysplasia.

ADVERTISEMENT - CONTINUE READING BELOW

Babywearing is another great way to promote healthy hip development — as long as it is done properly. The IHDI recommends putting your baby in the spread-squat position, where her thighs are spread around your torso and her hips are bent so that her knees are slightly higher than or at the level of her buttocks.

To learn how to babywear safely, watch the video below.

What other parents are reading

Celebrate your pregnancy milestones!


Enter your details below and receive weekly email guides on your baby's weight and height in cute illustration of Filipino fruits. PLUS get helpful tips from experts, freebies and more!

You're almost there! Check your inbox.


We sent a verification email. Can't find it? Check your spam, junk, and promotions folder.

Trending in Summit Network