Pia Magalona Tells Children: I Didn't Want To Fail in My Second Marriage

The mom of eight shares what really made a difference in making her marriage work.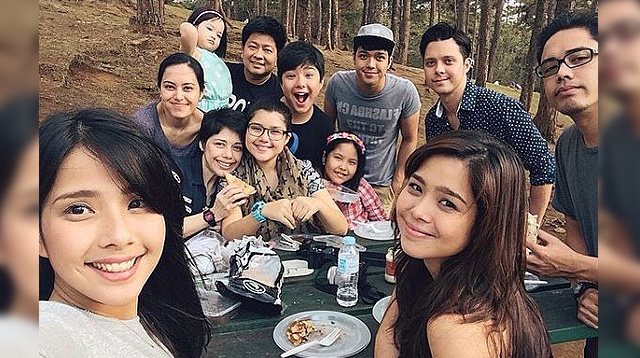 Kung gusto mong basahin ang nakasulat dito sa Tagalog, mag-click lamang dito.

Mother to eight, grandma to four (now five, with Saab giving birth recently-Ed.) and widow of Philippine rap master FrancisM, Pia Magalona is also the president of The One CORE Success Center , aiming to help individuals make better life decisions through real-life education. She is also her family's business manager and a passionate partner-preneur at Milky & Sunny Breakfast and the FrancisM Clothing Company, founded by her and her late husband, which created T-shirts with designs based on his music and lyrics. 

This letter was written by Pia as part of the book Letters to My Children, a compilation of heartwarming notes penned by personalities for their kids, which was published by Summit Media in 2016.

You see, kids:

Having the right marriage partner is of utmost importance when raising a family. I had my first child at 19, and the second after just two years. My partner then and I were both immature, and we admittedly rushed into that union mostly because of peer pressure (What will people saaaaay?!). We eventually had to go our separate ways.

Soon after, I met Francis, your Papa, and together we had six more children. We were both 21 then. I was back in college, and he was just starting his acting career.

We hit it off right away because I actually knew his older sister from school. We also had the same interest in the arts, although he was into hip-hop and I was into classical piano and ballet. We did find common ground in rock music. His parents were both actors, but he and his siblings weren't really encouraged to follow in their footsteps. Meanwhile, my mom, while taking care of four kids, continued her job in advertising, and my dad, a civil engineer, was in the construction business. They both had creative jobs and hobbies (such as photogrpahy), so my siblings and I were encouraged to be unique and creative in our own way.

ADVERTISEMENT - CONTINUE READING BELOW

What other parents are reading

Your Papa and I also raised you all to find your passion and talent, empowering you to pursue your interests yet never compromising on the values we instilled in you. He once said: children are like sponges. They will absorb anything you teach them. It was not by sheer coincidence then that I turned out to be the disciplinarian in the family, while he provided the adventure. I liked following rules because having a system actually made life easier. That way, we were able to enjoy our adventures more. 

Maturity is really the key to a successful marriage. I have to admit that together, your Papa and I had a lot of growing up to do since you children were already around, and it was a huge risk we took in bringing you up. The proper sequence is to have a plan before getting married and then the kids arrive. Children are not objects, and you need to be responsible enough to bring them up as future adults. Marriage has the greatest chance of being successful if the partners come from the same background and share the same values. One reason we were able to make ours work was because we faced our situation and got help from experts. Personally, I made a commitment to myself that since I was in a second partnership, I didn't want to fail again. We asked for help from family ministries and marriage counselors, and all that helped in finding ways for us to be able to work through difficult times. 

CONTINUE READING BELOW

Recommended Videos

Unna, when you were about to get married at 23, your now-hubby, Bryan, asked Papa for your hand in marriage. I was not around then because of a previous commitment, but I do remember giving you a reminder in the early days of your message--that showing respect for each other is the most basic factor toward a successful marriage. And now, you two have four children!

More recently, you followed suit, Saab, and got married in 2014 at the age of 24. This time, it was from me that your now-hubby Jim asked for your hand, since Papa had already passed away in 2009. I was stunned hen Jim scheduled dinner for just the two of us. I took it for granted that you were always together, but didn't realize that although you were both in a rock band, you were still quite traditional. To my credit, although I was caught off-guard, I managed to keep my bearing and drill Jim about his intentions. To his credit Jim passed the test, by answering in the affirmative to all. Among my concerns were:
- Are you sure you are both mature enough to accept that you are two different personalities, and neither should impose the other to change for their own benefit?
- Do you respect that Saab must continue with her work?
- Do you realize that you will both have to commit to this?
I may have also aired a few more concerns, but that's just between us. :)

What other parents are reading

In short, marriage is the union of two consenting and loving adults, for sure, BUT it is also filled with a lot of responsibility toward each other. and to society in general. This union, ideally, is respected and is a commitment that you enter into after weighing your options and assessing the reality of your readiness to commit to a partnership toward one life together. I wish I'd known that before, had taken it seriously, and not believed marriage to be like the fairy tales we were brought up on. Not that I blame that wholly...It's just a fact that that medium really had us believing in Prince Charming!

ADVERTISEMENT - CONTINUE READING BELOW

Obvously, the most important factor is being with someone you just really want to be around. This actually applies to both friendships and partnerships: be with someone who has ambition, whom you can learn from, and who will also learn something from you. You need to grow together, not one outgrowing the other. Otherwise, you will end up losing respect for them, and finding fault instead. A most important trait would also be a healthy sense of humor. Not the dark kind! You should also both seek to be healthy--especially in this day and age when we are most educated about what's good and bad for our bodies. Make sure there are endless possibilities of how you can be educated and entertained at the same time. It's imperative that you each agree on spending time apart as well. "Me time" is important, so that you look forward to seeing each other again.

Don't forget to have an opinion. The most boring thing would be to agree on everything under the sun. As long as it's just the little things, it's still awesome to be your own person. Lastly, it still holds true to not let the sun set on a quarrel. There is no point in having useless anxiety. So make sure you have a good night's sleep because after all, tomorrow is another day!

Pia 

 

Celebrate your pregnancy milestones!


Enter your details below and receive weekly email guides on your baby's weight and height in cute illustration of Filipino fruits. PLUS get helpful tips from experts, freebies and more!

You're almost there! Check your inbox.


We sent a verification email. Can't find it? Check your spam, junk, and promotions folder.
Trending in Summit Network